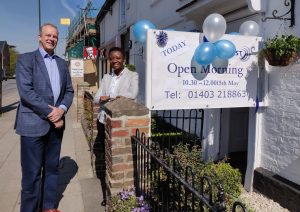 On a beautiful sunny morning in May we opened our doors at our Horsham branch to our existing clients and members of our local community.
Visitors were treated to tea and biscuits as well as a tour of our facilities. One visitor commented "I never knew what when on behind that door!"
Clients were able to meet fellow community members and share experiences in living with hearing loss, tinnitus and effective communication tactics. Our resident audiologists were on hand and to happy to answer any queries.
Visitors were able to book follow up appointments for hearing tests, wax removal and swim moulds. It was all in a days work for us here at South East Hearing.
Contact us in Horsham on 01403 218863