Custom moulded Catamaran swim plugs offer excellent protection for your ears whilst swimming.
If you're an avid swimmer, surfer, kayaker or love any type of water sports, then having custom moulded ear plugs should be a top priority for you. Getting a lot of water into your ears over time can lead to water-borne infections which can eventually lead to hearing damage and hearing loss.
Our custom moulded ear plugs offer unrivalled protection and comfort for you ears whilst you're doing your favourite water sport.
Swimmers Ear
Swimmers Ear, or Otitis Externa, is the most common ear infection caused by swimming and water sports. It's extremely painful and if left untreated for a long period of time, can cause detrimental damage to your hearing, including eventual hearing loss.
Swimmers Ear is caused by water and water-borne bacteria getting into the ear canal and not draining away. When this happens, bacteria thrives and causes infection, inflammation, swelling and pain.
Swimming ear plugs ensure water can't get into your ears whilst doing the sport you love, giving you protection against damage to your ears.
Personally moulded
All of our Catamaran Swim Plugs are specially custom moulded to your ears, so they fit comfortably and are even more effective than those that aren't moulded. They offer excellent protection for your ear while swimming and ensure you can enjoy swimming without worrying about your hearing.
They are particularly useful to those who are prone to suffering from ear infections after swimming, providing a barrier that prevents water from entering and spreading bacteria.
They are made to the exact shape of the ear and float, so should they happen to fall out of your ears whilst swimming, you'll be able to quickly and easily find them and put them back in your ears.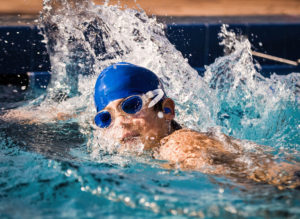 Medical grade silicon
Made from medical grade silicon, the ear plugs are strong and durable, making them extremely long lasting. With a range of colours available too, you can choose your favourite colour or even the colour of your swimming team. As the colours are all bright and the plugs float, it makes them easy to find if dropped.
Easy to clean, the plugs can be quickly wiped down after every use with mild soap and hot water to ensure hygiene and comfort when used.
Although the medical grade silicon is strong and durable, it's also soft and flexible to allow for maximum comfort and fit when in your ear.
What to expect when getting custom moulded swim plugs
When you attend your booked appointment, one of our specialist audiologists will meet with you to create your ear plugs.
Once you have chosen the colour you'd like, we will take a mould of your ears with impression material. This is soft and safe, so there's no need to worry about it feeling uncomfortable.
The impression material will stay in your ear for a few minutes until it has hardened. Then our audiologist will sort out the final details and send them off to a specialist lab to be handmade to your exact ear dimensions and will be ready in a couple of weeks.
What do my Catamaran Swim Plugs come with?
Not only are your swim plugs custom moulded to your ears, they also come with a range of extras and optional extras to make them easier to use and store:
Convenient recessed handles
Supplied with a squeeze carry pouch
Removable cords are an optional extra
If there's anything you'd like to add alongside your plugs, speak to our team at your appointment and we'll be able to help ensure you're comfortable when swimming.
Why choose South East Hearing Care Centres?
As an independent hearing clinic, we are committed to providing the local Sussex community with the very best standards of audiology and have access to the latest technology. This means you have access to the very best materials available when choosing your swim ear plugs.
Not only are we dedicated to providing our customers with a high level of care during appointments, our continued aftercare is available should you need any help once you've received your swim plugs.
Each of our audiologists has years of experience and relevant qualifications to ensure a high quality service, experience and level of care every time.
If you'd like to book an appointment for custom moulded swim plugs, or would like to speak to our team about our other hearing services, get in touch with us and we'd be happy to help.