All our hearing aids come with a two year manufacturer's warranty for your peace of mind
All hearing aids supplied by any of our clinics come with a two-year manufacturer's warranty as standard. On expiry of this, we can offer extended warranties for up to a further five years. Please contact your local clinic for more information.
All our hearing solutions come with a worldwide manufacturer warranty, but beyond that there are some interesting add-ons.
Other benefits are:
Each hearing aid purchase comes with a free privilege card (normally £25 annual fee), which entitles the holder to receive a 10% discount on all future purchases of consumables like batteries, wax filters, tubing, cleaning products and even new mini speakers known as receivers in the ear.
Everyone is enrolled free of charge as a member of our battery club. Each time a pack of batteries is purchased, a stamp is put in your battery club card and once it is full a free packet of batteries is issued.
The extended warranties cover all appointment costs. The list is too comprehensive to mention everything but they include new hearing tests, programming of hearing aids, re-tubing, ear inspections, free clean and checks and review of how hearing aids are performing. It even covers repairs for mechanical breakdown!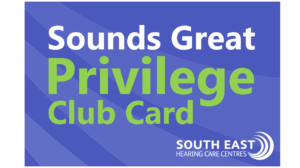 The only item not covered is loss and we strongly recommend that all hearing devices are insured under a household policy or personal risk scheme.