South East Hearing Care Centres has teamed up with the charity and Phonak, the world's leading manufacturer of hearing instruments, to help those who have suffered a hearing impairment in Britain's current conflicts and have been discharged as a result.
Former troops who have served in recent conflicts and fit the above criteria will be eligible to benefit from this scheme. As well as a choice of cutting edge hearing instruments, eligible veteran Servicemen and women will be given free instrument fitting and a series of follow up appointments from members of AIHHP (Association of Independent Hearing Healthcare Professionals).
The British troops currently stationed around the world are regularly exposed to the blast of guns or 'medium' explosions measuring 140 decibels (dB) – far exceeding the noise level of 85 dB at which hearing damage can occur. As a result of this noise exposure, troops are at a high risk of suffering severe and even permanent hearing damage.
Rob Davies, executive member and past chairman of AIHHP said: "AIHHP is extremely proud to have joined forces with one of the world's leading manufacturers, Phonak, to support Help for Heroes. With our shared ethos of providing high quality hearing care to the whole community, this collaboration ensures we can support our wounded heroes."
Kathy Knell MBE, Head of Welfare at Help for Heroes said: "The new partnership with Phonak and AIHHP is a very positive step which will help a lot of returning troops. Addressing hearing loss gives people the ability and confidence to hear clearly and improve their overall quality of life."
We recently sent Help the Heros a donation cheque to help with their charity work.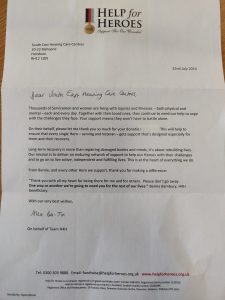 ---
Read more about the wonderful work of this charity: