Chichester Hearing Care Centre
Our Chichester Hearing Care Centre is situated in the heart of the city, just off East Street, making it easy to access for our patients. Our Chichester hearing clinic is usually very busy serving the local population with a range of hearing care services to help combat hearing loss.
Find out all you need to know about our services at the Chichester Hearing Care Centre, how to find us and our opening times below.
Please call the team on 01243 774536 or email chichester@hearingcarecentres.co.uk to book an appointment.
Our services
We're proud to offer a wide range of hearing care services that work to combat all types of hearing loss or hearing difficulties. Our specialised team of professional audiologists use the latest technology to diagnose and treat all manner of hearing related problems.
We are accredited Lyric hearing aid implantable specialists and the only local hearing care centre that uses microscopes and tiny video-otoscopy cameras for all consultations.
Our hearing care services include:
Tinnitus assessments
Impressions for customised ear protection
Music in-ear-monitors
Hearing aid fittings
Audiological counselling
As an independent hearing centre, we take the necessary time to understand your hearing profile and will only suggest viable solutions that are within your budget and suit your lifestyle.
Opening Times
You can book an appointment to visit our Chichester Hearing Care Centre and speak to one of our audiologists Monday to Friday, 9:00am-5:00pm. Simply give the team a call on 01243 774 536 to book an appointment, or fill out our online form.
Where to find the Chichester Hearing Care Centre
Our street address is: 6 Baffins Lane, Chichester, PO19 1UA.
Chichester is a lovely, historic town with a cathedral, affording it the only city status in West Sussex. It has a long history as a settlement from Roman times and is the seat of the Church of England Diocese of Chichester, with a 12th-century cathedral.
By car
Conveniently, the hearing centre is placed right next to the Baffins Lane Car Park. For those using a SatNav, the postcode for the car park is PO19 1TZ. This is quite a small car park so if it is full, you can also park at the Cattle Market Car Park (PO19 1JW).
From there, take the short walk along St John's Street, down New Town road towards the Henry Adams Estate Agents/Auction House and we are just round the corner from there in the courtyard. Alternatively, head for the Boston Tea Party restaurant in Baffins Lane and you can see us opposite from their entrance.
By bus
If you are travelling by bus, get off near the Cattle Market Car Park. The 700 Coastliner for Stop N, the 25, 51 Gold or 56 service is for Stop L and the 21, 51 Gold or 55 service on the other side of the road is for stop M.
Our Audiologist – Ken Fairley
Ken Fairley is our specialist audiologist based at Chichester Hearing Care Centre and is highly experienced in providing solutions for all types of hearing issues.
Ken started off his working life in the Royal Navy straight from school and served for 12 years, finally leaving as a Chief Petty Officer in the communications department. He qualified as a Registered Hearing Aid Audiologist in Manchester in 2003 and has been working with South East Hearing Centre for the last 15 years in Chichester.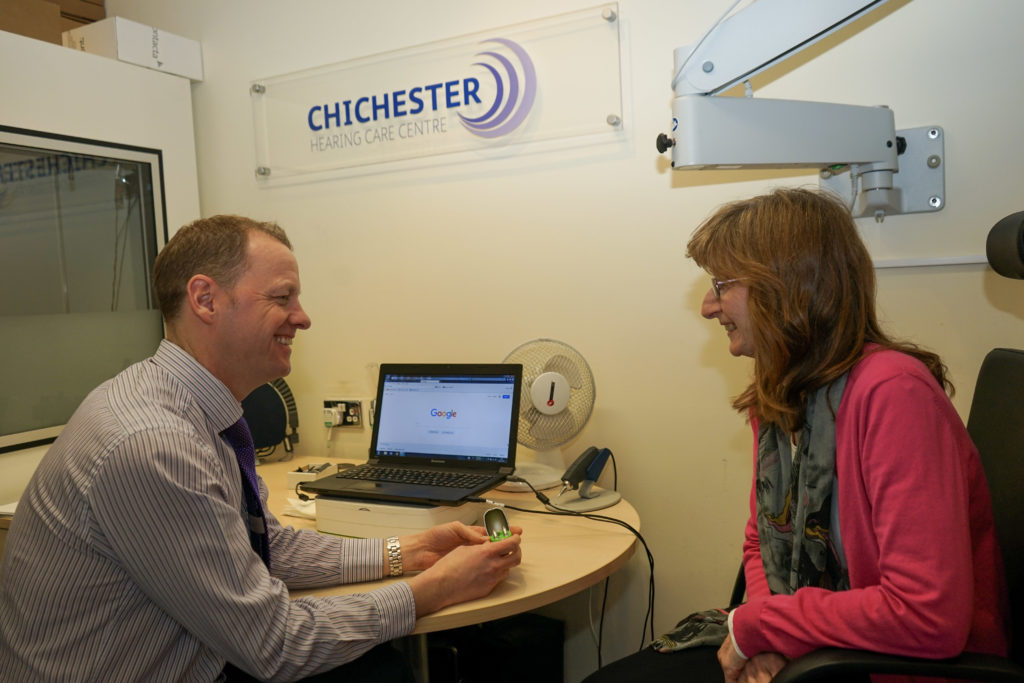 The Chichester hearing centre has progressed from a small room at an opticians for two days a week to a busy standalone centre open six days a week, serving the local population in West Sussex.
Ken regularly attends seminars and training days throughout the year to keep up to date with all the latest innovations in hearing aid technology. He is married with two children. In his spare time he likes to row, swim and collect Lego!
Member of registered Bodies:
AIHHP ( Association of Independent Hearing Healthcare Professionals)
BSHAA (British Society of Hearing Aid Audiologists)
What our clients say
Two members of my family have just received excellent advice and treatment at the Chichester Centre.

My husband for ear plugs advice and my 12 year old son, who has been suffering with excessive ear wax building up for the past year or so and being told by GP that can do nothing except keep putting drops in.

Within 15 minutes he had his ears safely unblocked, using micro suction and washing, something the GP said was not available. My son is like a different child and can actually hear again.

Thank You!

Mr J Llewellyn – Chichester patient