Our Chichester Hearing Care Centre is situated in the heart of the city, just off East Street, making it easy to access for our patients. Our Chichester hearing clinic is usually very busy serving the local population with a range of hearing care services to help combat hearing loss.
The Chichester hearing centre has progressed from a small room at an opticians for two days a week to a busy standalone centre open five days a week, serving the local population in West Sussex.
Find out all you need to know about our services at the Chichester Hearing Care Centre, how to find us and our opening times below.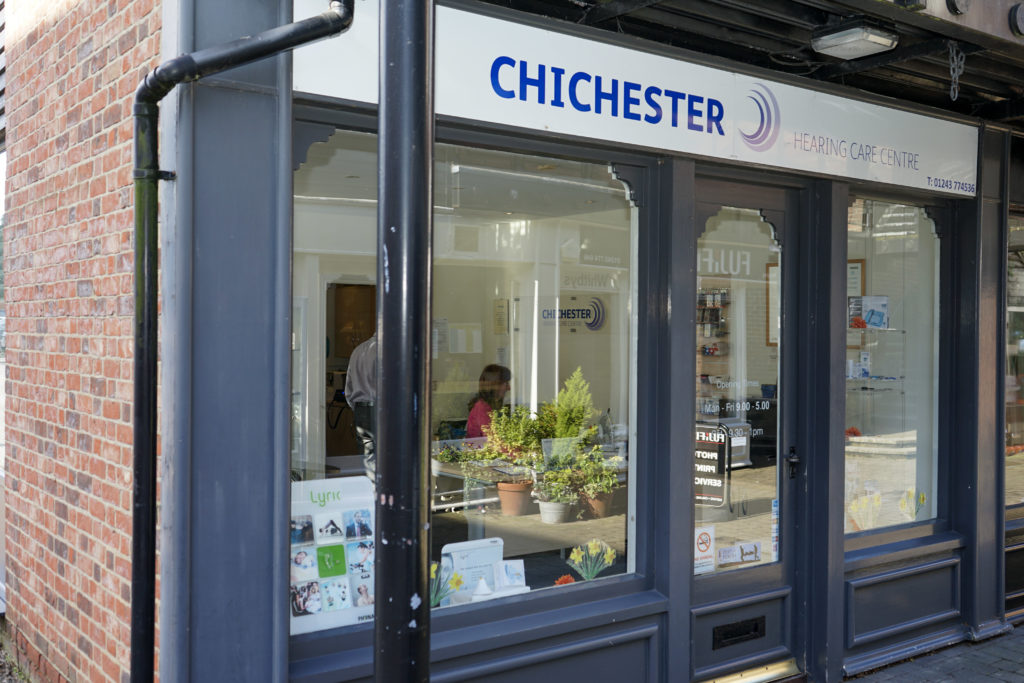 Opening Times
You can book an appointment to visit our Chichester Hearing Care Centre and speak to one of our audiologists Monday to Friday, 9:00am-5:00pm. Simply give the team a call on 01243 774 536 to book an appointment, or fill out our online form.
Our services
We're proud to offer a wide range of hearing care services that work to combat all types of hearing loss or hearing difficulties. Our specialised team of professional audiologists use the latest technology to diagnose and treat all manner of hearing related problems.
We are accredited Lyric hearing aid implantable specialists and the only local hearing care centre that uses microscopes and tiny video-otoscopy cameras for all consultations.
Our hearing care services include:
Tinnitus assessments
Impressions for customised ear protection
Music in-ear-monitors
Hearing aid fittings
Audiological counselling
As an independent hearing centre, we take the necessary time to understand your hearing profile and will only suggest viable solutions that are within your budget and suit your lifestyle.
Where to find the Chichester Hearing Care Centre
Our street address is: 6 Baffins Court, Baffins Lane, Chichester, PO19 1UA.
Chichester is a lovely, historic town with a cathedral, affording it the only city status in West Sussex. It has a long history as a settlement from Roman times and is the seat of the Church of England Diocese of Chichester, with a 12th-century cathedral.
By car
Conveniently, the hearing centre is placed right next to the Baffins Lane Car Park. For those using a SatNav, the postcode for the car park is PO19 1TZ. This is quite a small car park so if it is full, you can also park at the Cattle Market Car Park (PO19 1JW).
From there, take the short walk along St John's Street, down New Town road towards the Henry Adams Estate Agents/Auction House and we are just round the corner from there in the courtyard. Alternatively, head for the Boston Tea Party restaurant in Baffins Lane and you can see us opposite from their entrance.
By bus
If you are travelling by bus, get off near the Cattle Market Car Park. The 700 Coastliner for Stop N, the 25, 51 Gold or 56 service is for Stop L and the 21, 51 Gold or 55 service on the other side of the road is for stop M.
Accessibility
All our locations have ramps where necessary and widened doors for wheelchair access. Assistance is always offered amongst members of staff for mobility impaired patients and we have adjustable height chairs to make it easier to sit down and get out of chairs. Our audiologists will wear clear face shields to enable lip reading, whilst mask wearing is still advised by our professional bodies.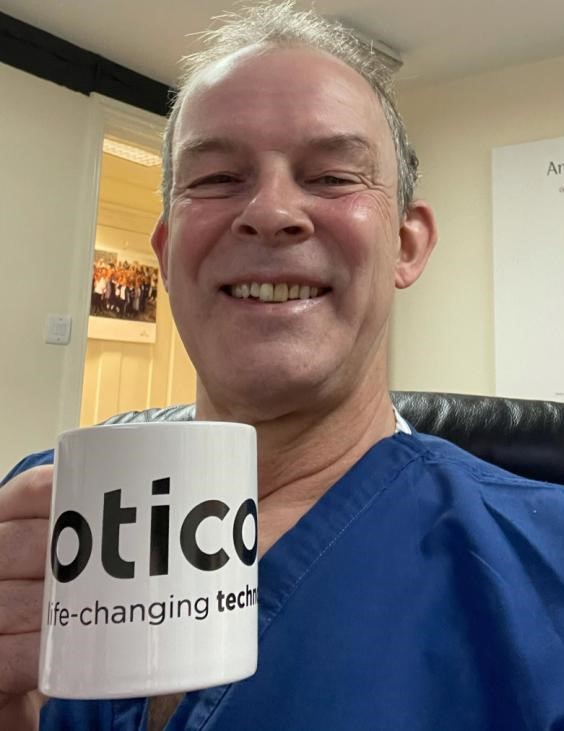 Our Audiologists
Rob Davies
Our senior audiologist, Rob Davies, consults from South East Hearing Care Centres in Horsham. Robert qualified over 35 years ago and is highly-experienced. He has been 'Highly Commended' in the 'Audiologist of the Year' Awards for the high levels of professionalism, care and commitment shown to his patients.
It is a measure of his standing that he has served as Chairman of the prestigious Association of Independent Hearing Healthcare Professionals (AIHHP), which promotes the highest professional and ethical standards in the independent hearing healthcare sector.
Our Horsham clinic has the distinction of being one of just 60 hearing care centres in the whole of the United kingdom and Ireland to be officially approved and certified by leading manufacturer Phonak as a Lyric fitting Centre. It is fully equipped to Phonak's high standards and Robert has completed the rigorous training to permit him to assess clients and fit Lyric, the invisible hearing aid that sits inside the ear canal and stays there, day and night, for up to three months.
Robert is always keen to keep abreast of the latest developments in hearing healthcare and he visits the annual American Academy of Audiology Convention and EUHA Congress in Germany to gain personal, hands-on experience of new techniques and technologies.
In his spare time, Robert enjoys playing veterans football and, when time allows, skiing. He likes to soak up the atmosphere of live sporting events, especially rugby and Grand Prix motor racing and loves travelling.
A keen Rotarian (and Past President of Horsham Rotary Club), Robert lives by the philosophy of "putting back" and helping others. He supports the Reverend Muhoro School for the Deaf in Kenya, which he visits on a regular basis. His visits are always packed full of hearing tests, taking impressions and helping the youngsters who have usually lost their hearing as a result of other illnesses. For more information about the school and its work, visit our Charity page.
Professional Bodies:
– Executive Member and past Chairman, Association of Independent Hearing Healthcare Professionals
– Fellow, British Society of Hearing Aid Audiologists
– Member of British Academy of Audiology
– Registered with the Health Care Professional Council
---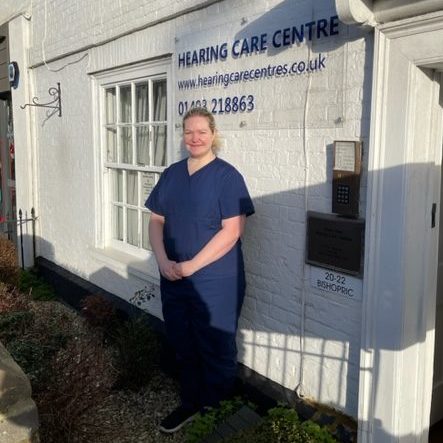 Sophie Patterson
I joined the Horsham branch in November 2022 after having worked within the NHS for over 10 years. Due to being a CODA (child of Deaf adults) and my interest for science and technology, Audiology was a natural career choice for me. I enjoy having the time to get to know the people I see, and will always endeavour to find the best solution to meet their hearing needs.
On Saturday mornings you will often find me at a parkrun event either walking, running or volunteering. When I'm not at parkrun, out for a walk or attending my Olympic Lifting classes, I enjoy sitting quietly either crafting or reading a good book.
---
"
SE Hearing Care in Chichester has always provided good advice and ear wax removal using specialist equipment. Genuine input & unbiased responses from Ken Farley the Branch Operator.
"
Mr Barnes
"
Very impressed with every aspect of my visits to the Chichester branch. Everything was explained easily and I certainly gained confidence in what I was to expect with my hearing aids. The effect was excellent and my Tinnitus appears now to be at such a low level I am hardly aware of it. I have not worn any type of hearing aid before and now I wonder why I left it for so long
"
Mrs Cooper
"
I moved to Chichester recently and needed to find a new audiologist. I found Samantha and Ken a real pleasure to deal with, and the whole experience at my first appointment was positive. Ken was understanding and highly professional.
"
Mr Farthing
Previous
Next