Our Horsham clinic is located in a beautiful 550 year old cottage in Bishopric. We are next door to KFC and just a short walk from the new John Lewis and Waitrose, where there is convenient parking. We have 2 audiologists that consult in Horsham; Rob, and Sophie.
Contact Us
Tel: 01403 218863
Email: admin@hearingcarecentres.co.uk
Opening Times
Our opening hours are 9am to 5pm Monday to Friday for clinic appointments.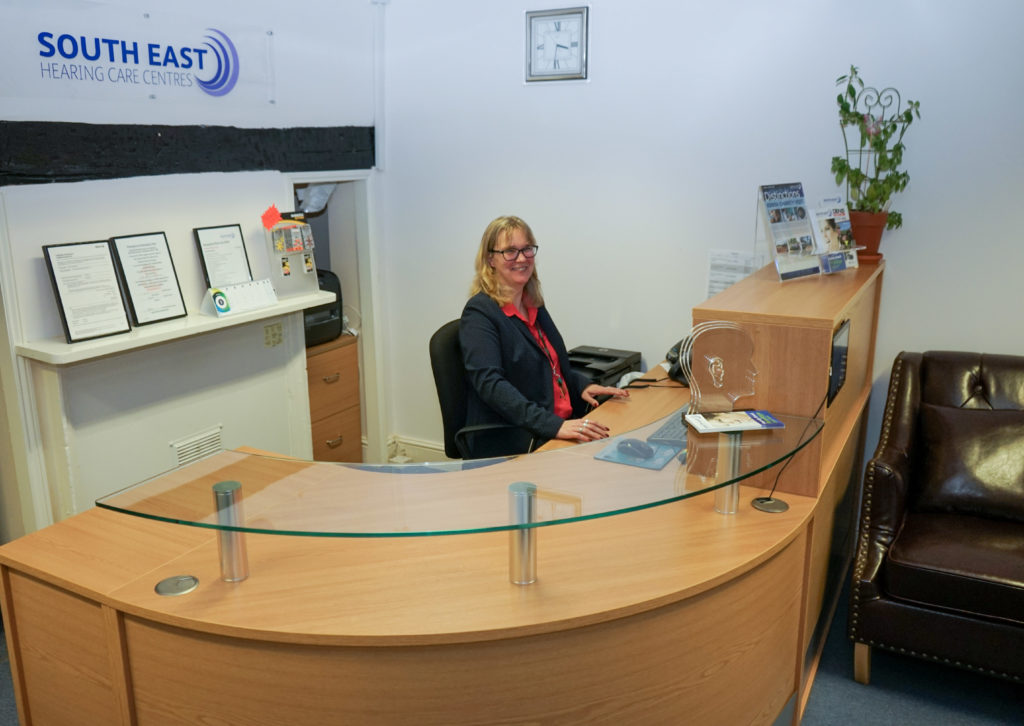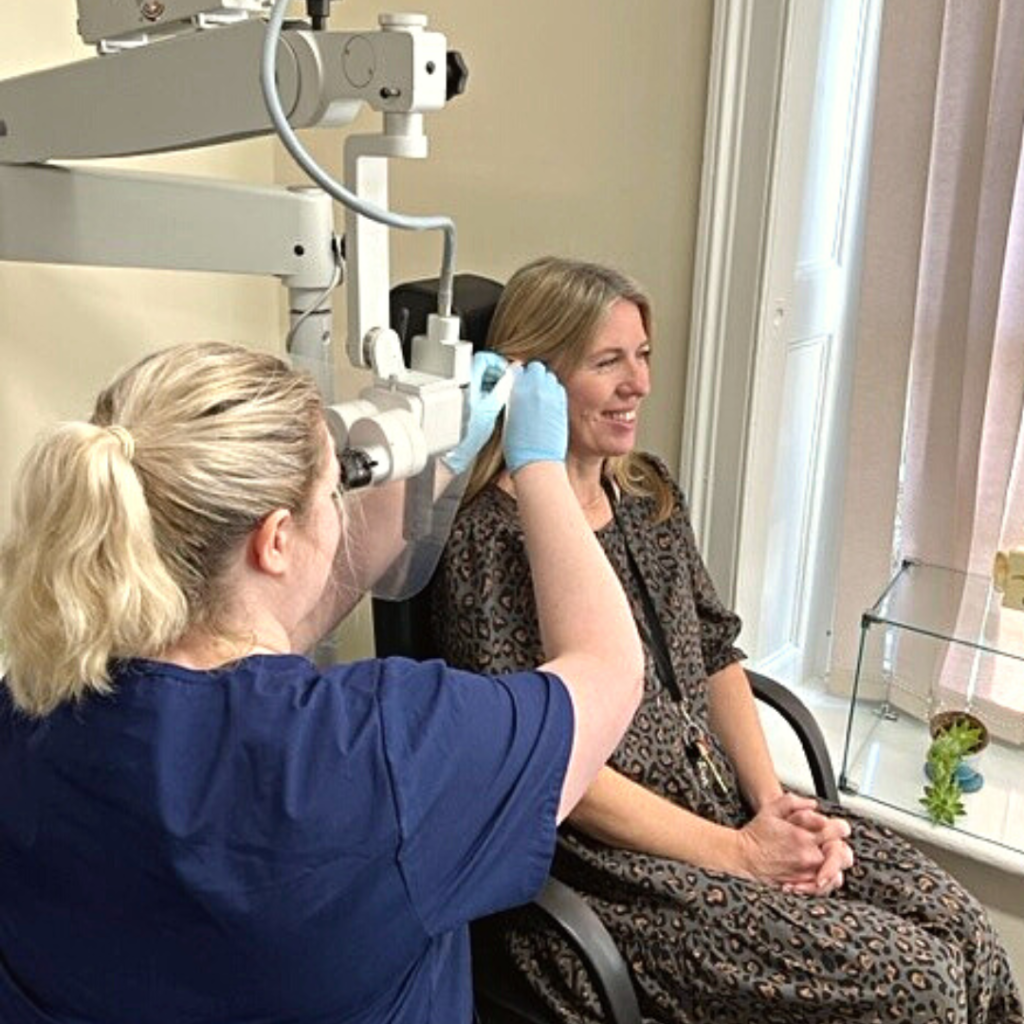 Our Services
You can book appointments for Microsuction Wax removal, hearing tests, tinnitus assessments, impressions for customised ear protection, music in-ear-monitors, shooting plugs sleep plugs, hearing aid fittings, second opinion and audiological counselling. We are accredited Lyric implantable specialists and the only local hearing care centre that uses microscopes and tiny video-otoscopy cameras for all consultations.
Getting To Us
Our street address is: 20-22 Bishopric, Horsham, RH12 1QN.
South East Hearing Care Centres clinic and head office in Horsham has ample nearby parking options such as, on Street Pay & Display Parking Bays on the road outside our clinic. A major Bus Stop opposite, with routes serviced by the 68, 63, 98 and Metro Bus
John Lewis & Waitrose Pay & Display Parking less than a 5 minute walk from our Clinic.
Situated in a beautiful 550year old building, which used to be part of King & Barnes brewery, next door To KFC.
There are a few Town Centre Car Parks to choose from in Swan Walk, Piries Place & Blackhorse Way.
The first historical record of Horsham is from AD 947. The name may mean either "horse home" or "Horsa's home" after a Saxon warrior who was granted land in the area.
The town has historically been known for horse-trading in early medieval times, iron and brick making up until the 20th century, and brewing more recently.
Accessibility
All our locations have ramps where necessary and widened doors for wheelchair access. Assistance is always offered amongst members of staff for mobility impaired patients and we have adjustable height chairs to make it easier to sit down and get out of chairs. Our audiologists will wear clear face shields to enable lip reading, whilst mask wearing is still advised by our professional bodies.
Our Audiologists
Patricia Asante
Patricia is a highly experienced and knowledgeable audiologist who has a Masters in Audiology from the University of Southampton. She also has experience of working in the NHS and private sector.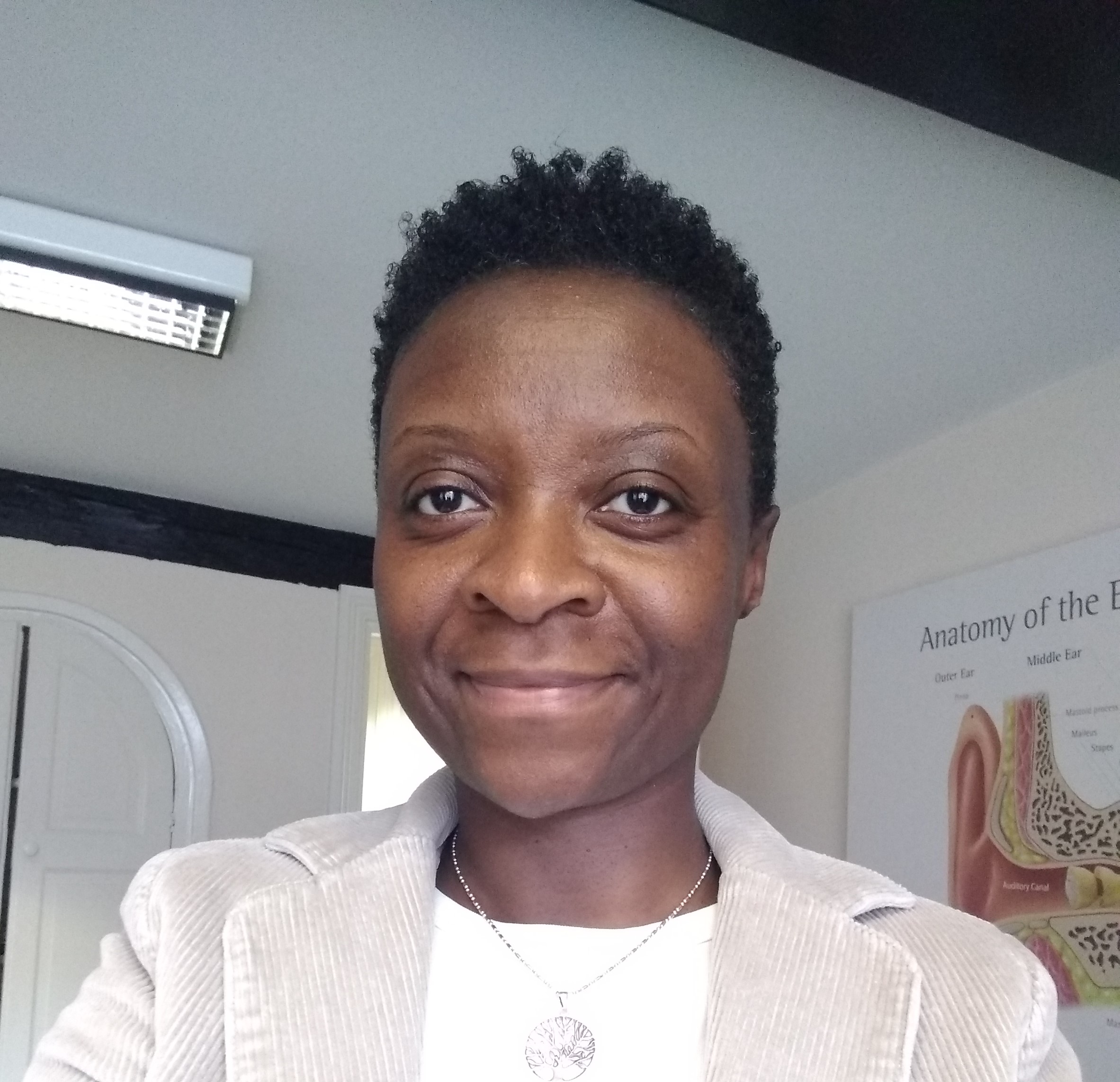 As well as being a fully qualified audiologist, Patricia has undertaken further training which means she is qualified to fit Lyric hearing aids. These are fully invisible hearing aids and are planted deep within the inside of the ear canal 24/7, making them a popular choice with those who are hard of hearing.
Before becoming an audiologist, Patricia worked as a lecturer and audio computer programmer, where she designed and worked with innovative audio technology. Some of her duties included working with disabled children to produce digital sound equipment.
Patricia spends her spare time writing and producing digital music – with some of her work having even been featured on TV! She also loves to spend time walking on the South Downs and birdwatching.
Member of registered Bodies:
AIHHP (Association of Independent Hearing Healthcare Professionals)
HCPC (Health Care Professions Council)
---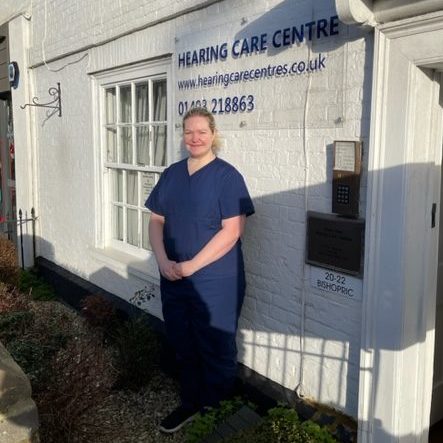 Sophie Patterson
I joined the Horsham branch in November 2022 after having worked within the NHS for over 10 years. Due to being a CODA (child of Deaf adults) and my interest for science and technology, Audiology was a natural career choice for me. I enjoy having the time to get to know the people I see, and will always endeavour to find the best solution to meet their hearing needs.
On Saturday mornings you will often find me at a parkrun event either walking, running or volunteering. When I'm not at parkrun, out for a walk or attending my Olympic Lifting classes, I enjoy sitting quietly either crafting or reading a good book.
"
The experience I had at a recent appointment with Rob and his colleague at South East Hearing Centre in Horsham was welcoming, efficient and informative at all stages. Rob has a way of keeping you calm whilst he explains exactly what is happening with the process of clearing out the wax from your ears. It is great to see the before and after photos of your ear canal. Also keeping a history of your treatment sessions is very worthwhile. All in all a very professional service which I strongly recommend to others needing the same.
"
Mr P Gibbs
Previous
Next