Signia (formerly Siemens)
About Signia
Signia is the new name for Sivantos Limited, formerly Siemens Hearing Instruments Ltd based in Crawley, West Sussex. They provide a large range of digital hearing aids and software to accompany them, patient management systems, as well as audiology equipment to the National Health Service, independent retail local and national dispensers in the UK.
It is the UK part of Signia Group, which is one of the world's leading manufacturers of hearing aids. With over 5,000 employees, Signias international sales organisation supplies products to hearing aid specialists and sales organisations in more than 120 countries around the world. In fact they develop and manufacture one in every four hearing aids being used worldwide and have helped people with hearing loss for far more than 100 years. They are a long established firm which is local to us. This is particularly useful if we need aids to be repaired quickly.
In the UK, Sivantos Limited offers hearing aids branded Signia, Siemens and Audio Service. They also provide accessories, software, smartphone apps and diagnostics solutions as part of their extensive range of products.
Signia's Mission & Vision
They want to  invent the future of better hearing and understanding, they are doing this by bringing cutting-edge technology and innovation to suffering from hearing loss….. Excellent vision to have.
How Signia are improving
Customers talk, they listen.
Continuous improvement in everything.
Be are honest and trustworthy as a company.
They are trying to create value for all their customers
Quality in all that they do.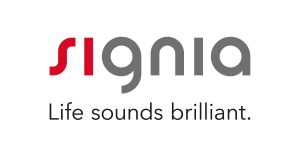 With Signia, Sivantos starts a new chapter in forward-thinking hearing solutions with expertly engineered devices that are almost invisible, highly automated and adapt to the customers preferences. Signia stands for hearing innovations that are centered on the patient's needs and deliver the highest level of quality and satisfaction. The Signia product range will provide a comprehensive range of advanced hearing solutions with life-changing technologies that enable hearing aid wearers to really see a difference, because personalised hearing care is what really makes the difference. This is why we at South East Hearing are partnered with them as these are our values too.

Siemens represents cutting-edge technology and innovation. Siemens epitomises more than a century of experience, German engineering and premium quality. The strong focus on R&D, particularly in audiology, is the basis of many world's firsts and award-winning technologies. The brand offers an impressive portfolio of hearing aids and complementary accessories, fitting software, smartphone apps and diagnostics workflow solutions.
All of these technologies are available from us here at South East Hearing. We do offer a huge range so why not pop into your local centre Horsham, Chichester or Seaford and have a chat about what is right for you.
What our clients say
Two members of my family have just received excellent advice and treatment at the Chichester Centre.

My husband for ear plugs advice and my 12 year old son, who has been suffering with excessive ear wax building up for the past year or so and being told by GP that can do nothing except keep putting drops in.

Within 15 minutes he had his ears safely unblocked, using micro suction and washing, something the GP said was not available. My son is like a different child and can actually hear again.

Thank You!

Mr J Llewellyn – Chichester patient