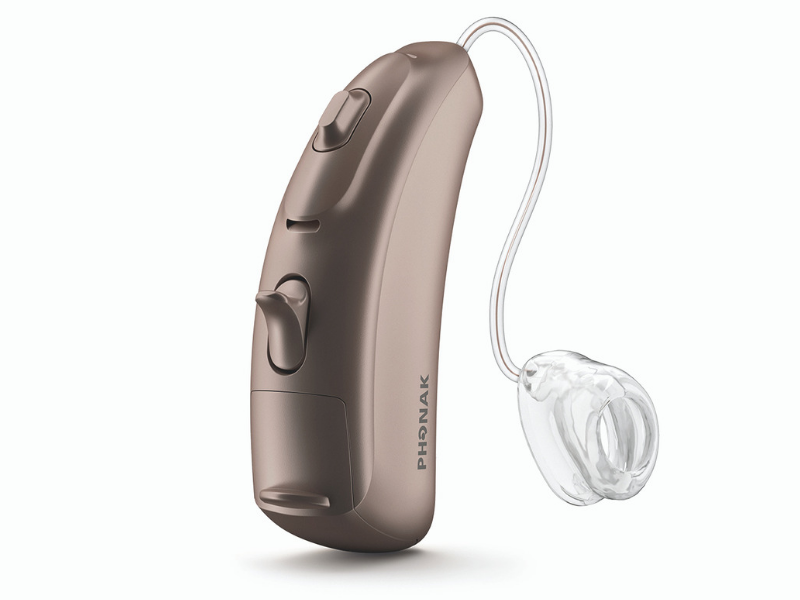 Receiver in the Ear (RITE), also known as Receiver in Canal (RIC) hearing aids are a hybrid of In the Canal and Behind the Ear (BTE) hearing aids. A discreet wire connects the hearing aid to the receiver which transmits sound directly into the ear. They offer the latest digital hearing aid technology to provide high quality sound enhancement.
This style of hearing aid is suitable for all levels of hearing loss and offers the ability to have different receiver power levels. This allows the RITE hearing aid to be tailored completely to the person's needs and hearing levels.
Hearing aid features:
Custom made to fit your individual ear canal and anatomy

Can be adjusted for all levels of hearing loss

Dual microphones for better hearing
The benefits of RITE hearing aids
Receiver in the ear hearing aids offers a range of benefits for all types of hearing ability, including:
The ability to fit different receiver power levels and variable ear domes to make them suitable for all levels of hearing loss, from mild to profound hearing loss

Dual microphones make it easier to hear in noisy environments

The internal receiver allows for a clearer and more natural sound

Ability to change receiver levels should your hearing deteriorate

Discreet appearance

Wireless and telecoil options

Advanced technology
The limitations of receiver in the ear (RITE) hearing aids
Although RITE and RIC hearing aids offer a wide range of benefits to all users, there are some limitations to this type of hearing aid:
Due to the external location of the microphone, there is a loss of natural acoustics

The external microphone is more prone to damage from dead skin from behind the ear

Telephone usage is more difficult, and the telephone needs to be held over the front microphone
Receiver in the ear and receiver in the canal hearing aids
At South East Hearing Care Centres, we're able to offer a wide range of different RITE and RIC hearing aids from the world's leading brands, including:
We're an independent hearing specialist across the south east of England with highly trained and qualified audiologists on hand to assist with your hearing needs. Whether you suffer from mild or severe hearing loss, we're able to offer all hearing aid types and find the best hearing aid solution for your needs.
Book an appointment at one of our clinics across the southeast today and find the right hearing aid for your needs.