WIDEX EVOKE
The new EVOKE behind the ear hearing aid heralds the start of intelligent hearing, where sound quality evolves in real life. Meet the world's most advanced hearing aid technology.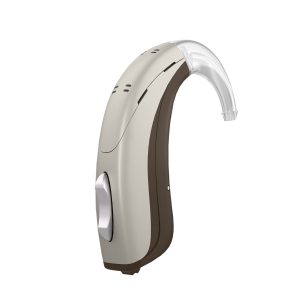 You are now entering an era of intelligent hearing, where the quality of your listening experience evolves in real time and real life. Your EVOKE keeps learning from you as you use it, so you hear sound perfectly. How clever is that!
This really is a smart hearing aid. It intuitively helps you hear well today, tomorrow and every day moving forward you can hear even better.
WIDEX TV PLAY
TV PLAY such a clever thing,  lets you enjoy outstanding TV sound through your hearing aids. TV PLAY is easy to set up, provides direct stereo streaming to your ears – and has discreet design with outstanding sound quality. Whether you want to get updated on the latest TV news or just relax with a movie, TV PLAY helps you hear the sound from the TV better
TV PLAY lets you fully enjoy what you want to see and hear through your hearing aids. With the  dual antenna technology, TV PLAY offers maximum streaming stability, so you will never miss out on important TV moments.
HEAR IT YOUR WAY
Do you want to focus on what you are watching by excluding all other sounds than the TV sounds? Or do you want to have a conversation while watching TV? It is up to you.
With the easy-to-use app, you can balance the volume of the TV sound with ambient sounds and conversations – or choose just to hear the sound from the TV. You decide what you want to hear. Living life your way to get the best enjoyment.
CONTROL WHAT YOU HEAR – WITH YOUR SMARTPHONE
With the EVOKE app, you can adjust the volume of the TV and the volume of the hearing aids independently. You can choose the right balance between the TV sound and the surrounding sounds and conversations. This way you can keep interacting with people around you, never missing an important moment.
AS EASY AS A FEW TAPS
Want an even more personalised sound?
Teach EVOKE how you prefer to hear with a few taps on the EVOKE app. The SoundSense Learn feature gives you two sound profiles to choose from. Simply listen to them and select the sound you prefer – as many times as you want.
It's never been easier or more convenient to get satisfaction on the spot.
If you are interested in trialling this amazing new hearing aid why not pop along to one of our branches and have a chat with our fully qualified audiologists who will be more than happy to give you all the advise you need.
Give us a call to book you appointment
Horsham 01403 218863
Seaford 01323 899655
Chichester 01243 774536