Our Chichester Hearing Care Centre is situated in the heart of the city, just off East Street, making it easy to access for our patients. Our Chichester hearing clinic is usually very busy serving the local population with a range of hearing care services to help combat hearing loss.
The Chichester hearing centre has progressed from a small room at an opticians for two days a week to a busy standalone centre open five days a week, serving the local population in West Sussex.
Find out all you need to know about our services at the Chichester Hearing Care Centre, how to find us and our opening times below.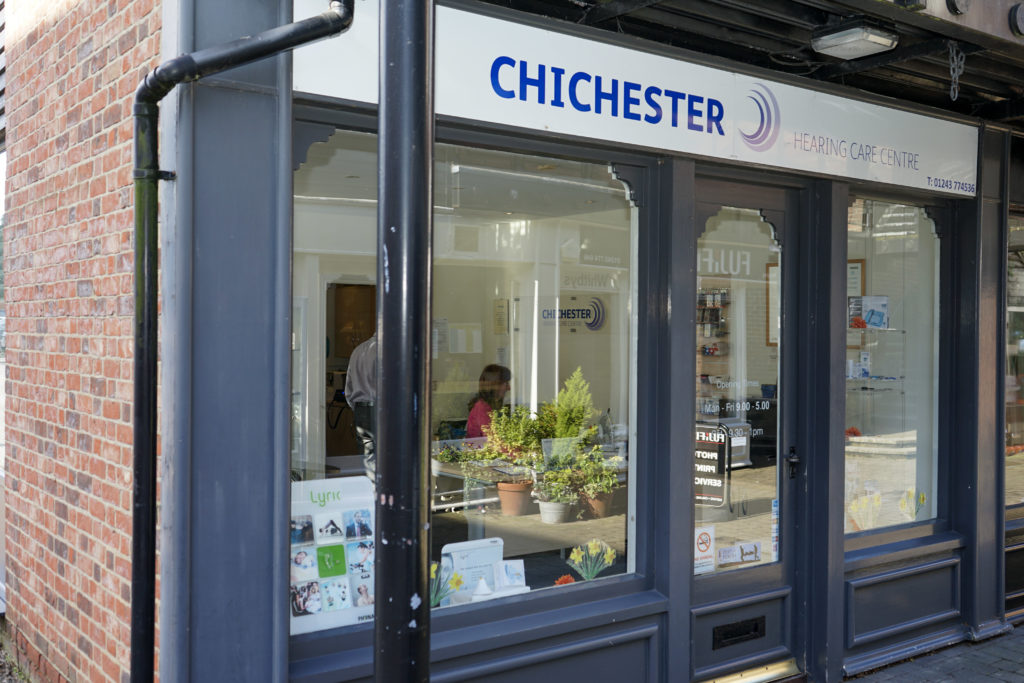 Opening Times
You can book an appointment to visit our Chichester Hearing Care Centre and speak to one of our audiologists Monday to Friday, 9:00am-5:00pm. Simply give the team a call on 01243 774 536 to book an appointment, or fill out our online form.
Our services
We're proud to offer a wide range of hearing care services that work to combat all types of hearing loss or hearing difficulties. Our specialised team of professional audiologists use the latest technology to diagnose and treat all manner of hearing related problems.
We are accredited Lyric hearing aid implantable specialists and the only local hearing care centre that uses microscopes and tiny video-otoscopy cameras for all consultations.
Our hearing care services include:
Tinnitus assessments
Impressions for customised ear protection
Music in-ear-monitors
Hearing aid fittings
Audiological counselling
As an independent hearing centre, we take the necessary time to understand your hearing profile and will only suggest viable solutions that are within your budget and suit your lifestyle.
Where to find the Chichester Hearing Care Centre
Our street address is: 6 Baffins Court, Baffins Lane, Chichester, PO19 1UA.
Chichester is a lovely, historic town with a cathedral, affording it the only city status in West Sussex. It has a long history as a settlement from Roman times and is the seat of the Church of England Diocese of Chichester, with a 12th-century cathedral.
By car
Conveniently, the hearing centre is placed right next to the Baffins Lane Car Park. For those using a SatNav, the postcode for the car park is PO19 1TZ. This is quite a small car park so if it is full, you can also park at the Cattle Market Car Park (PO19 1JW).
From there, take the short walk along St John's Street, down New Town road towards the Henry Adams Estate Agents/Auction House and we are just round the corner from there in the courtyard. Alternatively, head for the Boston Tea Party restaurant in Baffins Lane and you can see us opposite from their entrance.
By bus
If you are travelling by bus, get off near the Cattle Market Car Park. The 700 Coastliner for Stop N, the 25, 51 Gold or 56 service is for Stop L and the 21, 51 Gold or 55 service on the other side of the road is for stop M.
Accessibility
All our locations have ramps where necessary and widened doors for wheelchair access. Assistance is always offered amongst members of staff for mobility impaired patients and we have adjustable height chairs to make it easier to sit down and get out of chairs. Our audiologists will wear clear face shields to enable lip reading, whilst mask wearing is still advised by our professional bodies.
Our Audiologists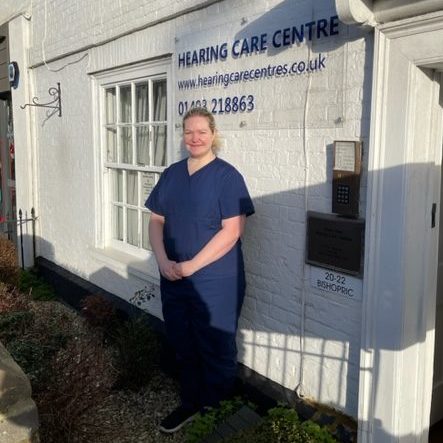 Sophie Patterson
I joined the Horsham branch in November 2022 after having worked within the NHS for over 10 years. Due to being a CODA (child of Deaf adults) and my interest for science and technology, Audiology was a natural career choice for me. I enjoy having the time to get to know the people I see, and will always endeavour to find the best solution to meet their hearing needs.
On Saturday mornings you will often find me at a parkrun event either walking, running or volunteering. When I'm not at parkrun, out for a walk or attending my Olympic Lifting classes, I enjoy sitting quietly either crafting or reading a good book.
---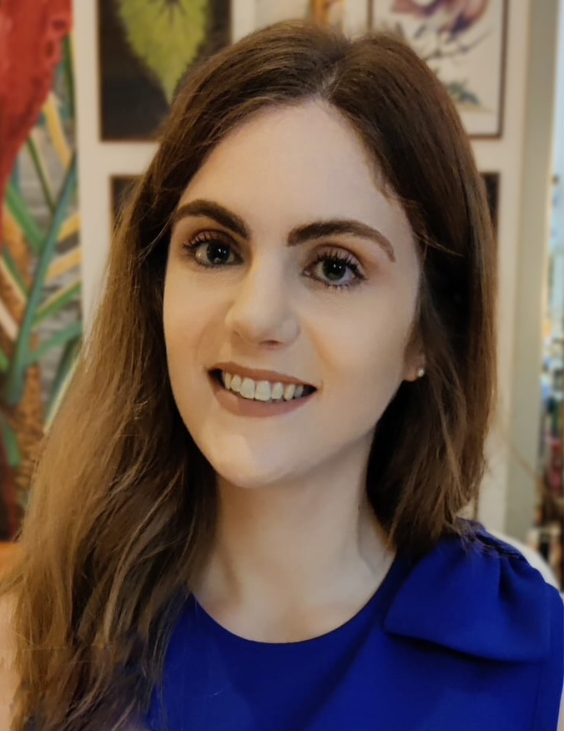 Dr. Maegan Giannidis B.Sc., M.Sc., Au.D
Having completed my Masters in Audiology in 2018 I began my audiology career in the NHS with both adult and paediatric patients including adults with complex needs. During this period I also completed my Doctorate in Audiology to further educate myself in a variety of areas including but not limited to; audiology in aging populations, paediatric audiology, genetics, pharmacology, tinnitus and counselling and advanced amplification. Upon graduation of my Doctorate of Audiology with high honours in late January 2022, I continued with NHS work and began my career in private audiology which allowed me to pursue my second passion of training and educating future audiologists.
My passion for audiology was sparked by a family member, whom struggled with hearing for many years. As his hearing loss progressed he withdrew and was not that charismatic member of the family we remembered. His first attempt with hearing aids did not result in much benefit. However with more family involvement and an audiologist with higher clinical training his second attempt was a success! This allowed him to become an active part of conversations with family and friends again and empowered him to become more independent. These experiences have encouraged me to become an audiologist and continue to gather knowledge to deliver the highest quality of care possible.
I became an audiologist because I have a passion for empowering others to live their lives without limitation from hearing loss or tinnitus. To allow them to remain active and continue to grow in their relationships with family and friends. I believe the way to accomplish this is by educating patients and family about their hearing and centring care around patient lifestyle goals. My favourite sounds are the voices of my family and friends which are located all around the world. The aspect of my career I personally love is seeing the level of independence and inclusion that begins with an individual learning about their hearing and/or from the turning on of hearing aids.
---
"
Very impressed with every aspect of my visits to the Chichester branch. Everything was explained easily and I certainly gained confidence in what I was to expect with my hearing aids. The effect was excellent and my Tinnitus appears now to be at such a low level I am hardly aware of it. I have not worn any type of hearing aid before and now I wonder why I left it for so long
"
Mrs Cooper
"
I moved to Chichester recently and needed to find a new audiologist. I found Samantha and Ken a real pleasure to deal with, and the whole experience at my first appointment was positive. Ken was understanding and highly professional.
"
Mr Farthing
"
SE Hearing Care in Chichester has always provided good advice and ear wax removal using specialist equipment. Genuine input & unbiased responses from Ken Farley the Branch Operator.
"
Mr Barnes
Previous
Next