WIDEX EVOKE™
The new EVOKE evokes the era of intelligent hearing, where sound quality evolves in real life. Meet the world's most advanced hearing aid technology.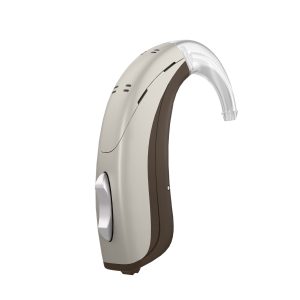 Welcome to the era of intelligent hearing, where the quality of your listening experience evolves in real time and real life. Your EVOKE keeps learning from you as you use it, so you hear sound perfectly.
The world's first truly smart hearing aid. It intuitively helps you hear well today. Tomorrow? You can hear even better. It's a paradigm shift, evoked by Widex. And you.
WIDEX TV PLAY™
TV PLAY™ lets you enjoy outstanding TV sound through your hearing aids. TV PLAY is easy to set up, provides direct stereo streaming to your ears – and has discreet design with outstanding sound quality. Just play and stay connected. Whether you want to get updated on the latest TV news or just relax with a movie, TV PLAY helps you hear the sound from the TV better.
TV PLAY lets you fully enjoy what you want to see and hear through your hearing aids. With the patent-pending dual antenna technology, TV PLAY offers maximum streaming stability, so you will never miss out on important TV moments.
HEAR IT YOUR WAY
Do you want to focus on what you are watching by excluding all other sounds than the TV sounds? Or do you want to have a conversation while watching TV? It is up to you.
With the easy-to-use app, you can balance the volume of the TV sound with ambient sounds and conversations – or choose just to hear the sound from the TV. You decide what you want to hear.
CONTROL WHAT YOU HEAR – WITH YOUR SMARTPHONE
With the EVOKE app, you can adjust the volume of the TV and the volume of the hearing aids independently.
You can choose the right balance between the TV sound and the surrounding sounds and conversations. This way you can keep interacting with people around you, never missing an important moment.
AS EASY AS A FEW TAPS
Want an even more personalised sound?
Teach EVOKE how you prefer to hear with a few taps on the EVOKE app. The SoundSense Learn feature gives you two sound profiles to choose from. Simply listen to them and select the sound you prefer – as many times as you want.
It's never been easier or more convenient to get satisfaction on the spot.
What our clients say
Two members of my family have just received excellent advice and treatment at the Chichester Centre.

My husband for ear plugs advice and my 12 year old son, who has been suffering with excessive ear wax building up for the past year or so and being told by GP that can do nothing except keep putting drops in.

Within 15 minutes he had his ears safely unblocked, using micro suction and washing, something the GP said was not available. My son is like a different child and can actually hear again.

Thank You!

Mr J Llewellyn – Chichester patient