South East Hearing Care Centres proudly offer Oticon hearing aids and accessories to our patients in Chichester, Horsham and Seaford, including the very latest hearing aid models. Our services include:
Consultation and advice to find you the best hearing solution for your needs
Fitting
Training
Ongoing support
With a range of options on offer, including rechargeable hearing aids, hearing aids for all types of hearing loss, including profound hearing loss, and Bluetooth connectivity, there is a hearing aid for every budget and lifestyle.
Discover more about this leading, innovative brand and how you could benefit from their range of hearing aids. Please get in touch if you have any questions or would like to book an appointment.

Oticon hearing aid models
The Oticon hearing aid range includes leading hearing solutions with a range of benefits that improve speech understanding and reduce listening effort. Find out more about some of the most popular products below:
Oticon More
Brand new behind the ear hearing aids from Oticon, the Oticon More hearing aids are revolutionary in providing a full spectrum of sounds. Leading technology means they process and balance all of the sounds around you, meaning you're not just hearing speech but natural sounds in your surroundings. This helps you experience a full sound scene that mimics how the brain works to support natural hearing such as music, bird song and laughter.
Choose from eight different colours and enjoy these Oticon bluetooth hearing aids with connectivity to your smartphone or tablet to check settings and battery levels. Battery charge time is only three hours– speak to our team about the Oticon More today.
Oticon hearing aid accessories
Oticon produces a range of products designed to make life easier for people with hearing impairments.
These include: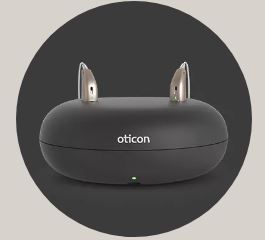 The Oticon ON App
This allows you to fully manage Oticon hearing devices, from adjusting the volume and switching programmes to checking the battery level. It also provides access to counselling advice.
---
The Connect Clip
This enables users to make hands-free phone calls and stream music from any smartphone, make video calls with a Bluetooth microphone and chat over a computer. You can use the remote microphone functionality to listen to someone speaking from some distance away. It can also be used to adjust the hearing aids using the remote control function.
---
TV Adapter
This adapter connects to almost any audio device and streams sound from the TV directly to the hearing aids, with a range of up to 45 feet, or 15 metres.
---
Phone Adapter 2.0
This pairs with the Connect Clip and works with analogue landline phones. Sound is streamed directly to the hearing aids, while the Connect Clip acts as the microphone.
All these accessories will make your life so much more enriched and fulfilled.
---
About Oticon

Oticon is a Danish company started in 1904 by Hans Demant whose wife was hearing impaired. In 1957 it passed to son William Demant who donated the shares to the William Demant foundation. Today they have the same vision as they did then 'to allow everyone to have better hearing and therefore lead a more fulfilled life'.
As we get older we still expect to do the same things we have always done. We want to continue to be active and go to the theatre and concerts and actually hear all the music. We want to meet our friends and not worry if it's at a noisy bar or restaurant.
Oticon has a range of hearing aids that allow people to take control of their life and to do what they want to do when they want to do it.
Hearing loss affects your brain and your health
Hearing is a vital part of communication and when hearing loss goes untreated it can cause increased feelings of loneliness and social isolation. Over extended periods of time hearing loss can lead to depression as well as an increased strain on mental capacities. Leaders in the field of brain-friendly hearing aids, Oticon have created a useful guide on hearing health and brain health.
Take a look at the guide and then consider the available product range and treatments.
Our team at South East Hearing Care Centres are here to help – contact us about your symptoms and we can work together on the right solutions.
Get in touch with our expert team
Oticon is available at the following clinics and our team are on hand to discuss your options and how to move forward with Oticon:
For more information on choosing the right hearing aid for your needs, please see our guide which we hope will answer many of your questions.
What our clients say
Two members of my family have just received excellent advice and treatment at the Chichester Centre.

My husband for ear plugs advice and my 12 year old son, who has been suffering with excessive ear wax building up for the past year or so and being told by GP that can do nothing except keep putting drops in.

Within 15 minutes he had his ears safely unblocked, using micro suction and washing, something the GP said was not available. My son is like a different child and can actually hear again.

Thank You!

Mr J Llewellyn – Chichester patient